About a year ago Chris Pearson created a brand new WordPress theme called Thesis Theme. It is absolutely one of the fastest growing themes for bloggers today. Most brand new marketers tend to go with a free theme that can be a mess on optimizing your blog.  Therefore, I highly recommend on purchasing Thesis Theme to grow your business using the internet.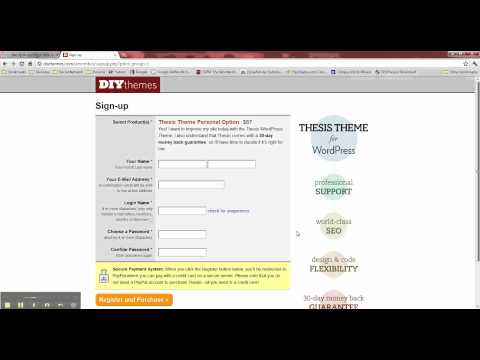 Thesis Theme Introduction
Here is my introduction and Thesis Theme review. It is a phenomenal WP Thesis Theme in the market today for internet or network marketers. There are several reasons on why I decided on this particular Theme 1.8 to start using DIY Themes rather than their competitors when I first started creating my own unique blog and branding myself to have that online presence to generate traffic.  
One of the biggest reasons I made the choice to go with Thesis Theme that has the capability to have an air tiet optimization will a great SEO (Search engine optimization) with an excellent platform. Thesis 1.8 is absolutely one of the friendliest SEO layout that can have a direct effect on how the search engines work like Google to get traffic to your blog or website.
There has been crazy and insane themes that aren't quit perfect to start optimizing your blog that can be definitely horrible for the search engines and can be lost in the shuffle. However Thesis Theme 1.8  is well organized, clean and presents your SEO content very well. It utilizes a nice and clean code structure and canonical urls.
Thesis Theme can be customizable
It also have the capability to give specific details on each of the meta tags and title posts without the need of a Word Press Plugin like Yoast or All In One Seo Pack that can be a hassle to get your blog or website optimized properly. Also, you can have the ability to take control on the look and layout without touching any code like html or css.  You can even  rotate the multi-media either with a picture or load up a Youtube video, No other theme can do that.
Another option in Thesis 1.8 that uses the built in custom fields function to load video's or even post specific pictures on any page on your blog. You don't have to be a tech geek or be an expert to create your own customable blog online. Besides the WP Thesis Theme download times are extremely fast as well.
Thesis Theme Support
The one thing for certain that Thesis theme has the advantage over your competitors. After you registered and download the purchase of the theme. It doesn't matter if you chose the developers option for $164 or personal option for $87.
You can absolutely have an excellent support from Diy Themes. Also there are future upgrades with no cost to you. If you can ask any questions either from Chris Pearson or anyone from the Thesis Theme community or forum that can help you out in anyway they can if you have any problems with Thesis Theme. You certainly get this kind of support if you made the decision on going with Thesis Theme rather than using a free Word Press Theme.
In conclusion after just over a little over a year of my own trial and error, I have used several types of Word Press themes in the past. Therefore, Thesis Theme really can standout of the crowd. It is absolutely an excellent, unique theme. You don't have to be a tech geek  or an expert to create your own blog that isn't difficult to customize it your own way that you can get from either from their competitors or free themes.  Nonetheless, I suggest that you click on the link below to get your own Thesis Theme today!
{ 6 comments }