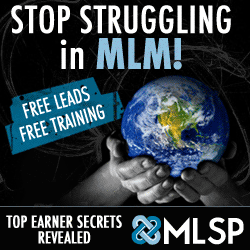 As you know, you probably found out about the My Lead System Pro marketing funnel on the internet. You seen the advertisement either from pay per click on Google when you put a certain keyword that has to deal with multi-Level marketing or a home based business.
The advertisement can be found on Facebook, MySpace, Twitter or LinkedIn. You're online to find an alternative solution to succeed on your business. You want to find out what My Lead System Pro is all about. There are other attraction marketing systems on the internet that we are competiting with online. My Lead System Pro is hands down the best that stands out from the crowd.
The co founders are Norbert Orelwicz, Brian fanale and Todd Schlomer who each individual meet each other at events. Each coming from different parts of the country and became business partners to solve networking marketers frustrations in getting leads, lack of cash flow, ineffective marketing techniques that don't work for 97% of network marketers in the real world.
They were once struggling as entrepreneurs and got there break through success. This is when My Lead System Pro is created back in September 2008. It has changed the MLM industry forever and attracting network marketers on the internet today.
So what is actually My Lead System Pro?
It is a marketing MLM lead generating and attraction marketing system that has the ability to market/advertise your network marketing company without chasing your friends and family. The system is very effective right from own home just using the internet.
So any serious entrepreneur can overcome their own barriers and the unlimited potential leveraging the internet that the proven attraction model with unlimited amount of income. My Lead System Pro  marketing funnels helps you brand yourself a leader and uses the methods of attraction marketing.
The benefits for using My Lead System Pro:
1. Generic templates and customizable that look professional that brands you as a leader.
2. You can also use 26 automate e-mail campaigns going out to your leads that you acquired through the My Lead System Pro funnel.
3. Split-testing & customization options and tracking your campaigns.
4. There are also over 100+hrs of recorded video & audio training by the top online marketers.
5. Simple video instructions that goes step by step that are easy to follow.
6. Back office training center & Wednesday night webinars.
7. Over 12 marketing strategies like: Facebook, Blogging, Pay Per Click, Article Marketing, etc.
8. Many other benefits that you can access once you become a member of My Lead System Pro. If your serious signing up with My Lead System Pro you need to realize there is a lot of work to do when you first getting the system up and running. It is like any other business and don't treat this as a hobby. It takes hard work and effort to start marketing and generating leads and getting some cash flow.
To be honest it will take about 3-4 months get some decent cash flow. Others have done it within their 1st month with My Lead System Pro. This isn't a system to make a quick buck. Most people who sign up don't given 100% effort applying the marketing strategies that are learned in the back office. They will quite less than 30 days when a new member signs up. If you're think that way then My Lead System Pro isn't for you and you're just wasting your time and money.
You can get a discounted trial for 14 days with My Lead System Pro for a 2 week risk free trial for only $9.97 and have access to everything in the back office. After that you will be charged $49.97 for the gold membership or the platinum membership for $99.97.
So that said, what are you waiting for? Take that first step, become the LEADER you want to be and take ACTION today to see if My Lead System Pro marketing strategies can work for you and your internet business.